30 Birds
Random Footnotes
Not documentation, but illumination of or expansion upon, randomly, various items. Episodically and unpredictably, but perhaps interestingly. A place also for corrections/comments. Contact info in Addendum. See bottom of page for Friendly Books.
Preface
Perhaps to eccentricities listed at end here should be added molecular biology. This, in the person of James D. Watson, co-discoverer of the double helix structure of DNA. Nobel Laureate. Although he ended up micro, he started macro, as a bird watcher, sharing the hobby with his businessman father in Chicago. Graduated from University of Chicago (B.S. zoology). Another eccentricity would be James Bond.
007 a bird-watcher? Not exactly, but his creator, Ian Fleming, was -- a keen one. After the war he retired to Jamaica (my trip there, many years later, included his house and the Doctor Bird). The field guide for the Caribbean area had been authored by a prominent ornithologist at the Philadelphia Academy of Sciences. No prizes for guessing that man's name. Fleming (a heavy smoker, dead at 56) once said to the ornithologist's wife: "It struck me that this brief, unromantic, Anglo-Saxon and yet very masculine name was just what I needed, and so a second James Bond was born."
1/ Irresistible Lemmon Red-faced Warbler
A checklist for the birds of Theodore Roosevelt Island can be found here: TRI . A list for Brigantine is here: FWS. The full text of the Supreme Court decision in Hirabayashi v. US can be found here: Hirabayashi. Justice Frank Murphy, a man who had his head on straight, intended to vehemently denounce Hirabayashi's treatment in this case, but was persuaded by his fellow Justices to withhold his venom. But it boiled over in the following year when the more famous case of Korematsu v. US was decided -- his famous dissent accuses the majority of legalizing racism. One has the feeling that had Murphy been a lot younger when the internments began, he might have been like this man, who at the time was only 17: Ralph Lazo. Hirabayashi"s first name, incidentally, was not Hideki or Isoroku. It was Gordon -- which says something. We should also note that January 30 is now Fred Korematsu Day in California, Virginia, Florida, Hawaii, and possibly Illinois,Georgia, Michigan, Pennsylvania, Utah, and South Carolina.
2/ Above and Above White-tailed Ptarmigan
Our birding party there on Mt. Evans included two women out of the five. The study cited of "social learning" in ptarmigans was authored by two women. This all accords with the article A Feminist Revolution in Birding (also linked to in the Addendum here).

3/ Masked Sibilicide Masked Booby
Fort Jefferson, from which I was unsatisfactorily scoping Hospital Key is nothing if not very odd. 16 million bricks taken out to the middle of the sea for strategic purposes, though the need behind that strategy never materialized. The bricks were not going anywhere, however. The typical tour via ferry boat, to what is now a National Park, lasts about four hours -- in and about the fort. Reading its history is in many ways more interesting. It was used as a prison during and after the Civil War. Far the most interesting prisoner was Samuel Mudd, the doctor at whose home John Wilkes Booth arrived after the assassination and who worked on Booth's fractured leg. What Mudd knew or didn't has launched a thousand books. Yellow fever broke out at the Fort in 1867, and when the prison doctor died of it, Mudd took over and stemmed the disease. The soldiers petitioned President Johnson on his behalf, and he was pardoned. A good movie about all this was made in 1936 by John Ford, a movie with the odd title "The Prisoner of Shark Island." As for using scopes to bird, and connecting them to a digital camera, a good article is Making the connecton.
Potential future notes: Great White Fleet
4/ On the Border Hook-billed Kite
The published ebook and paperback contain a final paragraph contrasting the border then and now.
Potential future notes: Edwards Plateau Robert Caro
5/ Visiting Nobility Whiskered Tern
Bird lovers 1903, including Arthur Cleveland Bent, author of 21-volume Life Histories of North American Birds.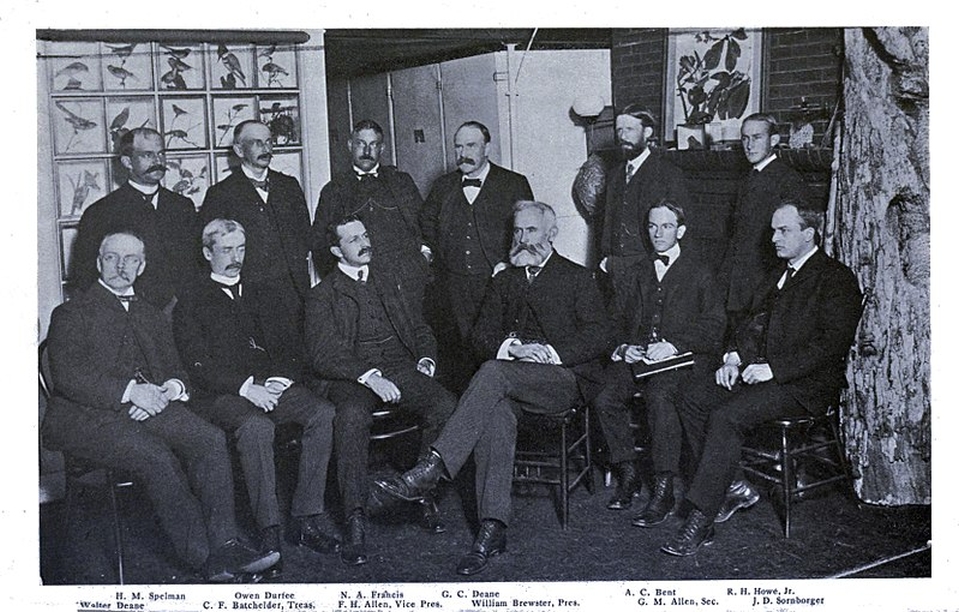 Potential future notes: Delaware.
6/ Walking on Water Leach's Storm-petrel
We were looking for the white rump, but in fact this area off San Diego is complicated. Indeed the authors of the 7th edition of the National Geographic guide felt it necessary to include a special subspecies map of the area (p. 567) showing where dark-rumped chapmani (breeding and post-breeding) occurs in relation to the nominate subspecies as well as another white-rumped species, Townsend's, and Ainsley's Storm-petrel, which ranges to the Galapagos and which many consider a subspecies of Leach's.
On a personal note, one of the NGS authors, Jon, was on the trip I describe, and the other was someone whose acquaintance I made when I used to, every day, park my car at the end of Hutchins Pl, NW in DC and head down to the C&O Canal with Shanghai, our beloved Malamute. Turned out one of the people living down there was a first-class bird artist named Jonathan, with whom I enjoyably chatted on a number of occasions.
Potential future notes: William Elford Leach, Louis Jean Pierre Vieillot, Monophysitism.
7/ Contented Hog Gray Hawk
It's not about the Gray Hawk, but this is as good a place as any to insert a note about the film The Big Year, a fictional version based on the book The Big Year: A Tale of Man, Nature and Fowl Obsession which was written by Mark Obmascik about one of those actual quests to see a record number of birds in a single year. The screenplay is by Howard Franklin, a variegated writer-director, and directed by David Frankel, a variegated writer-director some of whose work is perhaps better known (The Devil Wears Prada). The cast is also variegated: Steve Martin, Owen Wilson, Joe Black and an assortment of other very good actors, among whom are Rashida Jones, Anjelica Huston, Rosamund Pike, JoBeth Williams, and Brian Dennehy. Although stupid Rotten Tomatoes gives it but 40%, and it lost about $34m, it is in fact a terrific film. It is funny in being true to life and to the idea of being obsessed with the idea of winning the trophy (as if there were one) of seeing the most birds from midnight January 1 to midnight December 31. If you ever wanted to visit Attu island, here is you chance. Skulduggery is not neglected. Marital discord. Clumsiness. Rich and poor. Actual birds are seen. The film is fictional, but real, and something that every birder, the majority of whom are not crazy enough to lust after a Big Year, will appreciate. Click on the image here and help these people recover some of the $34m.
Potential future notes: Simon Schama George Cuvier, Ernst Mayr, Philippe Pinel
8/ Restricted Diet Snail Kite
Potential future notes: Miccosukee tribe, Samuel Eliot Morrison, Seminoles. History of binoculars (Nikon 9x)
9/ Marineland California Gnatcher
Something very interesting happened at a northern cousin to Marineland in 1989 -- Marine World in Vallejo. Two Beaked Whales, exact species unknown, perhaps the world's least-known mammal -- certainly one of them -- became stranded on the California shore and were taken to Marine World and given the names Alexander and Nicholas. Alexander survived only two weeks, Nicholas a further 10 days. Sadly short, but in fact the longest any Beaked Whale has survived out of the ocean.
Potential future notes: American Ornithologists' Union, Marine Corps Camp Pendleton, Pacific Coast Highway.
10/ Carderock Barred owl
Potential future notes: Shelby Foote, Edward Howe Forbush, Karel Voous, Isidore Geoffrey St-Hilaire, Katherine McKeever.
11/ Valhalla Black Swift
"Flying through the sky, helmeted valkyries appear" says one source. This seems a good place to note that there is now a video game about another flying creature up in the sky. The game "takes place in a city made of giant paper lanterns floating in the sky. Each side of a lantern is a hand-drawn Persian miniature like scenery. It is said that the bird goddess Simurgh painted them directly on the night sky." Here is Simurgh: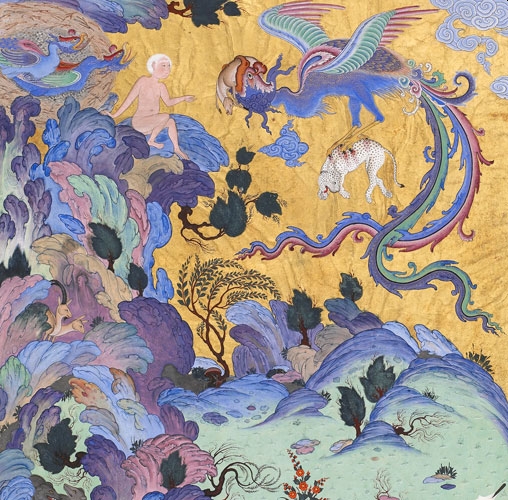 "The player will help a girl named Zig to wake the goddess, who's been asleep for years. They will have to find thirty quirky bird characters, that is, gather all their contacts in a chat app on Zig's phone." Why mention this game? Because of the sky and because of its name: 30birdsgame.com.
Potential future notes: G. Evelyn Hutchinson, François Leguat, Huguenots, Ahwahneechee, Jared Diamond, Cooper Ornithological Club.
12/ Hammering Nuttall's Woodpecker
An interesting story about a Nuttall's is contained in the charming, brief autobiography famous California birder, Don Roberson, offers on this website. Roberson
Potential future notes: Elliott Coues, Yellow-breasted Chat.
13/ Penelope Eurasian Wigeon
Potential future notes: James Jobling, B.C. Livezey.
14/ Bahamas Bird Stripe-headed Tanager (Western Spindalis)
Potential future notes: M.L. and P.R. Isler, T.C. Moermond, Alexander Skutch
15/ Burrow Bird Black-vented Shearwater
Potential future notes: Kilauea Point National Wildlife Refuge, Puffinus.
16/ Percy Bysshe Eurasian Skylark
Percy had, one imagines, certain psychological issues, given his unbelievably complicated emotional life. Who knows whether "Bird Therapy" would have helped? It did, however, help another Brit, Joe Harkness, who has written about how it helped him overcome a personal psychology which included drug and alcohol addiction: here.
Potential future notes: Clive James, Mark Twain, Mary Wollstonecraft,
17/ Pawnee Lapland Longspur
Potential future notes: Pawnee National Grassland, Pronghorn Antelope, English sparrows.
18/ On the Rocks Rock Sandpiper
Potential future notes: David Schneider, Darwin, Wallace [Evolution of Beauty] Spencer Fullerton Baird, Sparrow War, Theosophy.
19/ Marathon Antillean Nighthawk
Potential future notes: Edmund C. Jaeger, Chuckwalla Mountains, James Lane bird finding guides, Robert Moehling.
20/ Well Loved Tricolored Blackbird
Potential future notes: H.M.S. Beagle, Johnson Neff, Gordon Orians and Robert Payne, Frederick Crase and Richard DeHaven, Edward Beedy and William Hamilton.
21/ Alas, Lost Cousin Canary-winged Parakeet
In reacquainting with Audubon's magnificent portrait of the Carolina Parakeet, I came across the following from the great man himself: "A true conservationist is a man who knows that the world is not given by his fathers, but borrowed from his children." This is on the website of Nevada's Red Rock Audubon Society

Parakeets are, of course, a type of parrot, and although parrots are known for their intelligence recent studies of New Zealand's famous Kea have highlighted its capacity for cooperative intelligence. This from Jennifer Ackerman's The Bird Way: "We know this from experiments in which researchers give birds a box rigged with four separate chains that must be pulled simultaneously to release treats. Known as the loose-string experiment, it is the standard test for cooperation in the animal world. Kea ace it -- waiting while everyone gets positioned, then yanking the chains all at once so everyone gets the treats. They will wait for the arrival of their helping partners for more than a minute, beating dogs, chimps and even patient elephants."
Potential future notes: General Grant, Perzina, Changsha, Hunan province, State Natural Heritage Programs
22/ Bombay Hook Sharp-tailed Sandpiper
Potential future notes: Civilian Conservation Corps, CCC, FDR

23/ Back Bay Long-billed Curlew
Potential future notes: Candlestick Point.
24/ Unexpected Popup LeConte's Sparrow
A picture of Dr. Chipley in Michigan on this trip:

25/ Presidio Lawrence's Goldfinch
Potential future notes: Don Roberson, George Newbald Lawrence, D.G. Elliot , John C. Fremont
26/ Little Creek Curlew Sandpiper
Potential future notes: Russia, International Union for the Conservation of Nature, IUCN, Delaware, Port Mahon Road, Little Creek Wildlife Area, molting fall adult.
27/ Tiger Creek Short-tailed Hawk
Potential future notes: Florida scrub, Avon Park Bombing Range, Clarice Ford, Sharla Shettler, Dothan, Alabama
28/ Taxonomic Birding Red-naped Sapsucker
Potential future notes: Gaspard (Caspar) Bauhin, Johann Siegesbeck, harlotry, Paul Ehrlich, Gretchen Daily.
29/ Deceiving Appearance Kelp Gull
Potential future notes: Pierre-Yves Henry, Jean-Christophe Aznar, Austin Gallagher, Right whales [endangered]
30/ Florida Canyon Rufous-crowned Warbler
There certainly are no skyscrapers in Florida Canyon, but there are in other places, and a recent article makes this astounding statement: "Collisions with high-rise buildings kill another 600 million or so migrating birds every year, according to the Cornell Lab of Ornithology at Cornell University." The "another" in this statement is there because collisions like this are only one of the hazards migratory birds face, hazards which range: "from vanishing nesting grounds, dwindling food sources and pesticide use, to domestic cats, which kill up to 3 billion birds annually, according to the Migratory Bird Center at the Smithsonian Conservation Biology Institute and the U.S. Fish and Wildlife Service." This article, which appeared in the WSJ Dec 4, 2019, is actually about the effect of climate change on songbirds: it is making them smaller. "The thousands of sparrows, warblers, thrushes and other birds analyzed in the new study were all killed when they collided with high-rise buildings in Chicago between 1978 and 2016 . . . ." 12,000 specimens all measured by scientists at the Field Museum. "The scientists, analyzing the measurements, found that body size declined significantly over the 40 years, as temperatures at the birds' summer breeding grounds north of Chicago increased by about one degree Celsius. The length of the tarsus leg bone, a key indicator of overall body size, declined 2.4% across all 52 species during those decades. The birds' sizes declined incrementally, generation by generation, as temperatures rose, the researchers found."
Potential future notes: Alexander Skutch, Painted Redstart
---
A picture of Bob in the sun, though in a different sunshine state: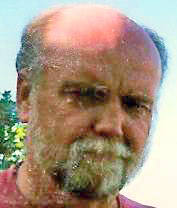 ---
Bonus White-winged Tern
Potential future notes: Horseshoe crabs, Red Knot.
Books by the author's friends.
Click here to go to
Friendly Book
page . . .